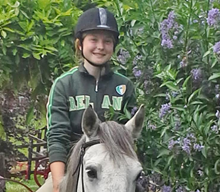 Freizeit Aktivitäten rund ums Pferd

Die Waldwege und kleinen Landstraßen sind ruhig und friedlich als ob die Zeit stehen geblieben sei. Nur die Geräusche der Natur begleiten uns.

An Sibin Reiterhof

Wir sind im ländlichen West Irland zu hause umgeben von den hügeligen Slieve Aughty Mountains.
Von hier schauen wir in der Entfernung auf den majestätischen Shannon Fluss.
An Sibin Riding Centre
Horse Riding and Equestrian leisure Activities
Mountshannon, Derryoran East Whitegate, Co Clare Ireland.
Galway Clare Burren Trail Ride Itinerary
For six days you will be discovering Ireland's beautiful nature and having an amazing vacation on horseback
.Read More..